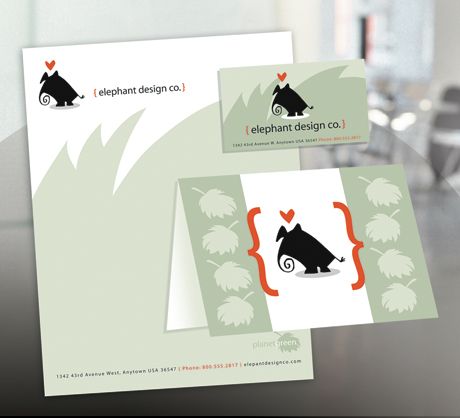 Business Stationery: Low-Tech in a High-Tech World
It's a curious thing. The more high-tech and fast-paced our world becomes, the more people appreciate and respond to low-tech forms of communication.
While e-mail and texting are fast and (usually) efficient, sometimes the best way to communicate with clients, prospects, and friends is by way of a personal letter on company letterhead, or even a hand-written note on quality stationery.
To give your business communications that personal touch, be sure you have a supply of quality writing papers on hand. A well-coordinated stationery suite, including letterhead, blank notecards, and thank-you cards with coordinating envelopes, plus a good supply of business cards, enables you to send individualized messages quickly and effortlessly.
Here are some possibilities for your business stationery collection:
Incorporate your company's logo and signature colors into all the pieces. Place the logo on your letterhead, matching #10 envelopes, and business cards. Then, use the logo's colors on your notecards and thank you cards.
Provide yourself with more than one size of stationery. You'll definitely want traditional 8.5 x 11 sheets for typed letters. Add a smaller size, such as 6.25 x 9.25, which can still contain your letterhead for a professional appearance, but which allows you to write a shorter, perhaps handwritten note.
Consider adding a postcard to the mix. In addition to your stationery and notecards, you might want to print up some postcards. These can display virtually any image on the front, from a generic scene or greeting to a photo of your business or yourself, to a specialized message such as "We've Moved" or "Holiday Sale." The back of the postcard allows you just enough space to write a short, yet personal, note.
Papergraphics is ready to help you put together a fantastic collection of business stationery. We'll use our technology to give you a low-tech connection to your clients.