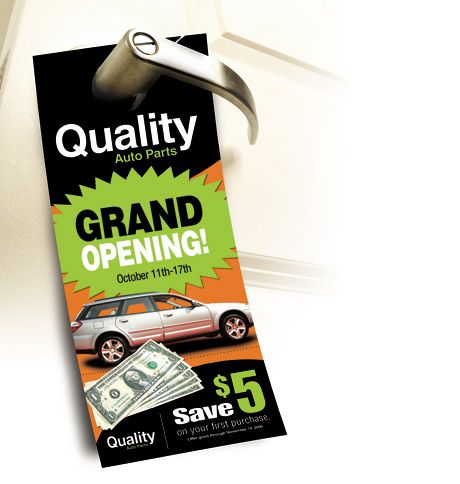 Door Hangers: On the Door to Get You In the Door
Doors are everywhere–office buildings, hotels, neighborhood houses, etc. … why not take advantage of them as an idea for a marketing campaign?
Door-hanger marketing is an effective yet inexpensive way to reach an audience. Because your advertising message must physically be removed from the doorknob, it is very likely to be read and make an impression that lasts beyond a brief glance. And unlike other advertisements your prospect receives, door hangers typically stand alone without competition.
Here are a few ways to take advantage of door hanger marketing:
Introduce a new business.
Spread the word in local neighborhoods about your new company or services. Be sure to include a phone number, street address, and company website address.

Target a specific market.
For example, if your company sells fencing, you can deliver your message just to the homes without an existing fence. Or if you sell renter's insurance, you can target apartment complexes.

Create name recognition.
A consistent door-hanger campaign trains your prospect to think of you when the need arises for your product or service. Want to ensure the recipient keeps your hanger around longer? Distribute hangers with an affixed magnet, especially if the hanger includes your company's hours of operation or other pertinent information.

Encourage a call to action.
Track the success of your campaign with a special perforated tear-off of a discount coupon or business card. Or try a scratch-off discount that they need to bring to your business to find out the percentage they save.

Promote company sponsorship.
For example, at business conferences, distribute useful door hangers sponsored by your company on attendees' hotel room doors that include a schedule of events, a map, and other useful info.

Spread information, service reminders, etc.
In addition to promotional advertising, door hangers can be used to provide information, serve as service reminders, or even to let your customers know you paid them a visit. If you're interested in seeing what door hangers can do for your business, give us a call today! We'll help you develop a creative design to achieve the results you need.