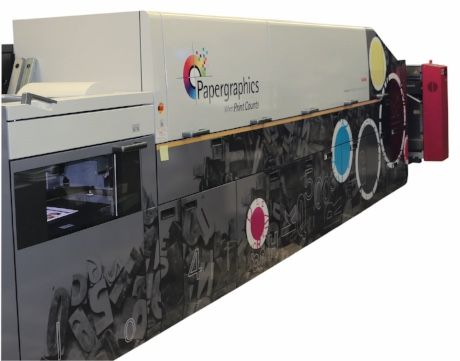 Digital? Offset? Or Both!
At Papergraphics we are very proud of our capabilities of offering high quality offset and digital printing. Whether your need is a simple black and white form or a full-color brochure featuring variable data we have the technology to get your job done. Typically a project manager does not care how it is printed, or fully understands the difference, as long as it suits the needs of their project. Running to a copy shop for 10,000 copies might not be the best option, nor would using a larger commercial printer for 500 copies. Papergraphics has you covered for most of your large or small projects. So how do we decide which printing process is best for your project?
Two key factors play a role in determining which printing method we use; quantity and color. After a certain quantity, it becomes less expensive and faster to print on an offset press instead of a digital press for full color process printing. The second factor is color. Offset presses have the ability to match spot color using the Pantone Matching System (PMS). This system is used when precise spot color match is needed and is an important consideration if the job includes several PMS colors or difficult to match PMS color such as a metallic or special mix. Unlike the offset press, a digital press strictly prints using the process colors Cyan, Magenta, Yellow and Black (CMYK) and has the ability to combine these 4 colors to simulate a PMS color but it is not an exact match.
Even though we don't always report it to you, it is our practice to look at alternate ways your job can be produced so we can choose the process that best meets the production requirements – due date, quantity, paper or specialty material printed on, and image quality. Some jobs clearly belong on a digital press; while others definitely belong on an offset press. But for those projects that could be produced using different methods, we assess all of the options so we can present you with the best combination of value and quality.
| PREPRESS |
> Apple & PC workstations
> Adobe Creative Suite software package
> Kodak Trendsetter 400 platesetter
| DIGITAL PRINTING |
> Nexpress ZX 3300
> Konica C1100
> Konica Minolta 1250
> Oki C941e
| OFFSET PRINTING |
> Heidelberg Speedmaster 52HP
> Heidelberg Printmaster
| FINISHING |
> JBI Lhermite EX 610 automatic oversized punch & coil binder
> Neopost DS-90i mail inserter
> Hasler HJ930 inkjet addressing system
> Accufast ET double tabber
> Graphic Wizard UV coater
> Horizon CRF-362 creaser/folder
> Polar cutter
> Folder
> Duplo booklet maker