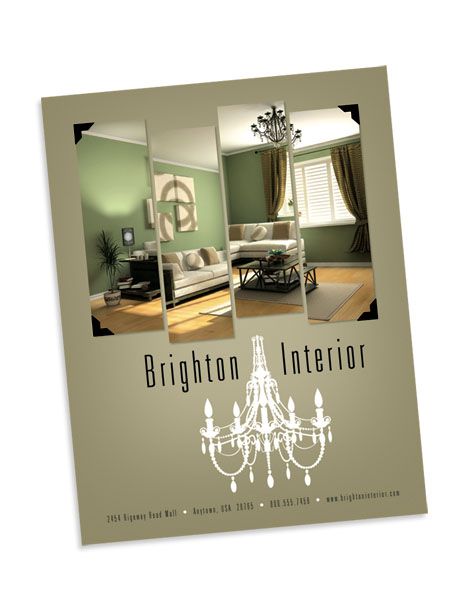 Brochures Bring Results.
You worked hard developing your line of products and services, and you have a lot to be proud of. A full-color brochure is the absolute best way to toot your own horn. Elegant, eye-catching, and memorable, brochures bring you the results you deserve!
The purpose of marketing is to spread the word about your company and increase sales. Brochures are a cost-effective way to spread the word, which means more money in your pocket when you make the sale. Follow these tips to create brochures that get the job done:
Know your audience.
Who are you trying to reach with your brochure? What are their needs and how will your product or service benefit them?

Map out your objectives.
Decide what you want your brochure to accomplish. Having a clear objective up front will help you focus your creative energies in the right direction and produce a more desirable result.

Start with the cover.
It's the first element prospects will see. If your budget allows it, include an original photo, preferably in color, of someone benefitting from the product or service you are trying to sell. If you can't afford an original photo, look for a stock photo or illustration that captures the mood, feeling, or experience you are hoping to create.

Banish the boring.
Add a flowing curve or unique cut to the cover of your bro­chure. Insert a "peek through" hole. In­clude an embossed logo, foil-stamped element, or raised lettering.

Keep the copy concise.
In brochure writing, brief is better. Captions, bulleted lists, highlighted text, and information-packed headings will draw a busy reader's attention and drive home the message you are trying to send.

Consider a product-specific approach.
When prospective customers inquire about a specific element of your business, they don't want to spend time reading about unrelated information. Individual, product-specific brochures allow you to go into greater detail about the benefits of each product and answer prospects' questions more effectively.

Seek outside help.
Don't settle for a "homemade-looking" brochure just to save a few dollars. It will leave an unprofessional impression of your company. To create a more positive impression, have your brochure professionally designed and printed.
It just might be more cost effective than you think!