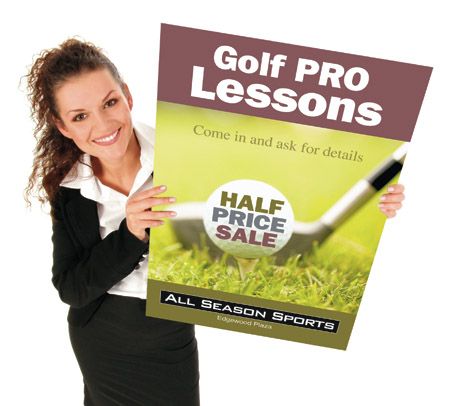 Full-Color Posters & Banners Make a Big Impression
Sometimes when you need to make a big impression, you need a big marketing tool to get the job done. Full-color posters and banners allow you a generous amount of advertising space in which to get your message across.
Here are a few things to keep in mind as you consider using a full-color poster or banner for your next marketing campaign:
Consider the space.
No matter what the finished size ends up being, either provides you with a great deal of freedom when it comes to filling the image area. Would your poster or banner benefit from a large amount of white space, or should you fill it with bright colors? Are there parts of the message that should be larger or more bold than others? Determining your intended audience will help you answer these questions.
Consider the casual observer.
Have a few coworkers that have not been involved in the poster/banner creation take a brief look at it to determine what stands out and what gets lost. Their responses will reflect the response you would get from the general public. Use their ideas to make improvements.
Consider the printing.
Once the poster/banner is ready to print, you want it to look as good on paper as it does on screen. The printed quality will make or break its effectiveness. Papergraphics is well equipped to produce full-color posters & banners that will stop people in their tracks. We know you rely on us to accurately reproduce the designs you have worked hard to create, and you can trust us to output the highest-quality full-color poster or banner for your company.